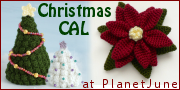 Just wanted to share with you a great way to get motivated to try new patterns.
Use one of
Planet June's Christmas amigurumi patterns
(donationware or otherwise) and send her a pic or a link to where you posted about it or added it to flickr (or whatever), and she'll enter you in the draw to win a $10 voucher for her store.
Second prize is a pattern of your choice, and all other entries will receive a discount voucher for the store.
Well worth taking part in.
Entries close on December 24th and all photos, (along with the name of the winner) will be posted on Christmas Day on the Planet June blog.
{More info here}